Featured City

Fort Lauderdale
Welcome to Fort Lauderdale, a vibrant coastal city located in Broward County, Florida. Known for its beautiful beaches, boating canals, and thriving arts and culture scene, Fort Lauderdale offers residents a desirable combination of natural beauty, recreational opportunities, and urban amenities.
Fort Lauderdale is famous for its pristine beaches that attract visitors from around the world. Residents can relax on the soft sands, swim in the clear waters, or engage in various water sports such as boating, paddleboarding, and jet skiing. The city's beachfront promenade, known as the Fort Lauderdale Beach Strip, offers a vibrant atmosphere with beachfront cafes, shops, and entertainment venues.
The city is also renowned for its intricate network of boating canals, earning it the nickname "Venice of America." Residents can explore the waterways, cruise along the Intracoastal Waterway, or anchor their boats at one of the many marinas. The boating lifestyle is an integral part of Fort Lauderdale's identity, offering residents endless opportunities for leisure and enjoyment on the water.
Fort Lauderdale embraces its cultural side with numerous art galleries, museums, and theaters. The NSU Art Museum Fort Lauderdale showcases contemporary and modern art, while the Broward Center for the Performing Arts hosts a wide range of performances, including theater, ballet, and live music concerts. Residents can immerse themselves in the city's vibrant arts scene, attending art exhibitions, performances, and cultural events.
The city offers a diverse range of dining options, from casual beachfront cafes to upscale restaurants. Residents can savor fresh seafood, international cuisines, and farm-to-table creations. Las Olas Boulevard, a vibrant thoroughfare lined with shops and restaurants, is a popular destination for residents and visitors alike, offering a variety of culinary experiences and lively nightlife.
Fort Lauderdale is also home to a vibrant downtown area, with a mix of residential, commercial, and entertainment options. The downtown district features high-rise condominiums, trendy boutiques, and an array of dining and entertainment venues. Residents can enjoy shopping, dining, and socializing in this dynamic urban setting.
The city's recreational opportunities extend beyond the beaches and waterways. Fort Lauderdale has numerous parks, nature preserves, and recreational facilities, offering residents spaces for picnics, sports, and outdoor activities. The Hugh Taylor Birch State Park provides walking trails, kayak rentals, and picnic areas, allowing residents to enjoy the natural beauty of the area.
Transportation in Fort Lauderdale is convenient, with a well-connected network of roads and highways. The city's proximity to Fort Lauderdale-Hollywood International Airport ensures easy travel access for residents, whether for business or leisure.
In summary, Fort Lauderdale offers residents a desirable coastal living experience with its beautiful beaches, boating canals, and vibrant arts and culture scene. Embrace the beach lifestyle, explore the cultural offerings, and enjoy the diverse dining and entertainment options. Experience the allure of Fort Lauderdale as you immerse yourself in its natural beauty, engage in recreational activities, and enjoy the vibrant and energetic atmosphere that this coastal city has to offer.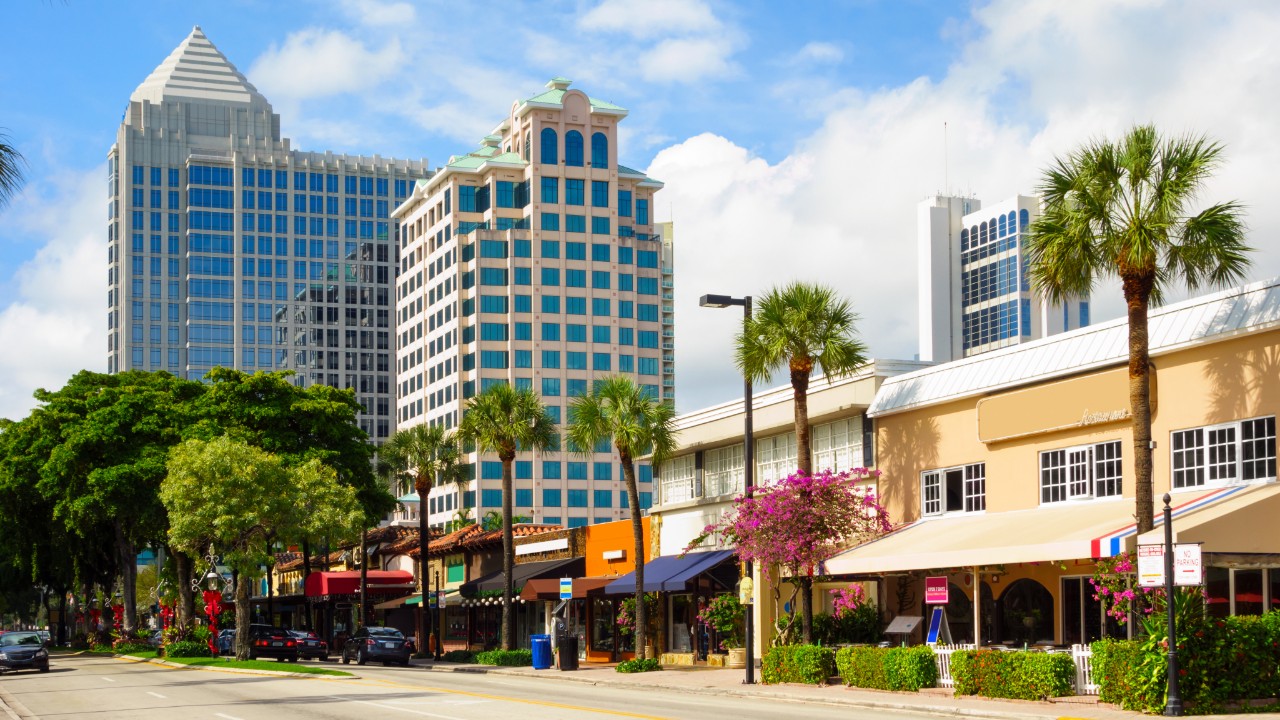 Fort Lauderdale

Neighborhoods