Featured City

West Palm Beach
Welcome to West Palm Beach, a vibrant and cosmopolitan city located in Palm Beach County, Florida. Known for its stunning waterfront, lively downtown district, and cultural offerings, West Palm Beach offers residents a dynamic and thriving urban living experience.
West Palm Beach is blessed with a beautiful waterfront along the Intracoastal Waterway and stunning views of the Atlantic Ocean. Residents can enjoy picturesque sunsets, take leisurely walks along the waterfront promenade, or indulge in various water activities such as boating, paddleboarding, and kayaking. The city's waterfront parks provide scenic spots for picnics, relaxation, and community gatherings.
The downtown district of West Palm Beach is a bustling hub of activity and entertainment. Clematis Street, the city's main street, is lined with trendy boutiques, art galleries, and a vibrant nightlife scene. Residents can explore the eclectic mix of shops, enjoy live music at the waterfront amphitheater, or dine at a wide range of restaurants offering diverse culinary experiences.
The city is a cultural mecca, offering residents access to world-class museums, theaters, and art galleries. The Norton Museum of Art showcases an extensive collection of American, European, and Chinese art, while the Kravis Center for the Performing Arts hosts a variety of Broadway shows, concerts, and dance performances. Residents can immerse themselves in the vibrant arts scene and participate in cultural events and exhibitions throughout the year.
West Palm Beach is home to a diverse dining scene, with a multitude of restaurants offering a range of cuisines to satisfy every palate. From upscale dining establishments to trendy cafes and local eateries, residents can enjoy a culinary journey that reflects the city's cultural diversity. The nearby Rosemary Square provides additional dining options and a vibrant atmosphere for socializing and entertainment.
The city's parks and recreational facilities offer residents opportunities for outdoor activities and leisure. Okeeheelee Park features nature trails, fishing lakes, and sports fields, while Dreher Park houses the Palm Beach Zoo and South Florida Science Center. Residents can also explore the Ann Norton Sculpture Gardens or enjoy a round of golf at one of the many championship golf courses in the area.
West Palm Beach hosts a variety of events and festivals throughout the year, bringing the community together to celebrate art, music, and local traditions. The weekly GreenMarket offers fresh produce, local goods, and live entertainment, creating a vibrant and inclusive community atmosphere.
Transportation in West Palm Beach is convenient, with easy access to major highways and the Palm Beach International Airport. The Tri-Rail and Brightline train services provide efficient transportation options for commuting and regional travel.
In summary, West Palm Beach offers residents a dynamic urban living experience with its stunning waterfront, lively downtown district, and vibrant cultural scene. Embrace the cosmopolitan lifestyle, explore the arts and entertainment offerings, and enjoy the diverse culinary experiences. Experience the allure of West Palm Beach as you immerse yourself in its energy, culture, and the vibrant living that this vibrant city has to offer.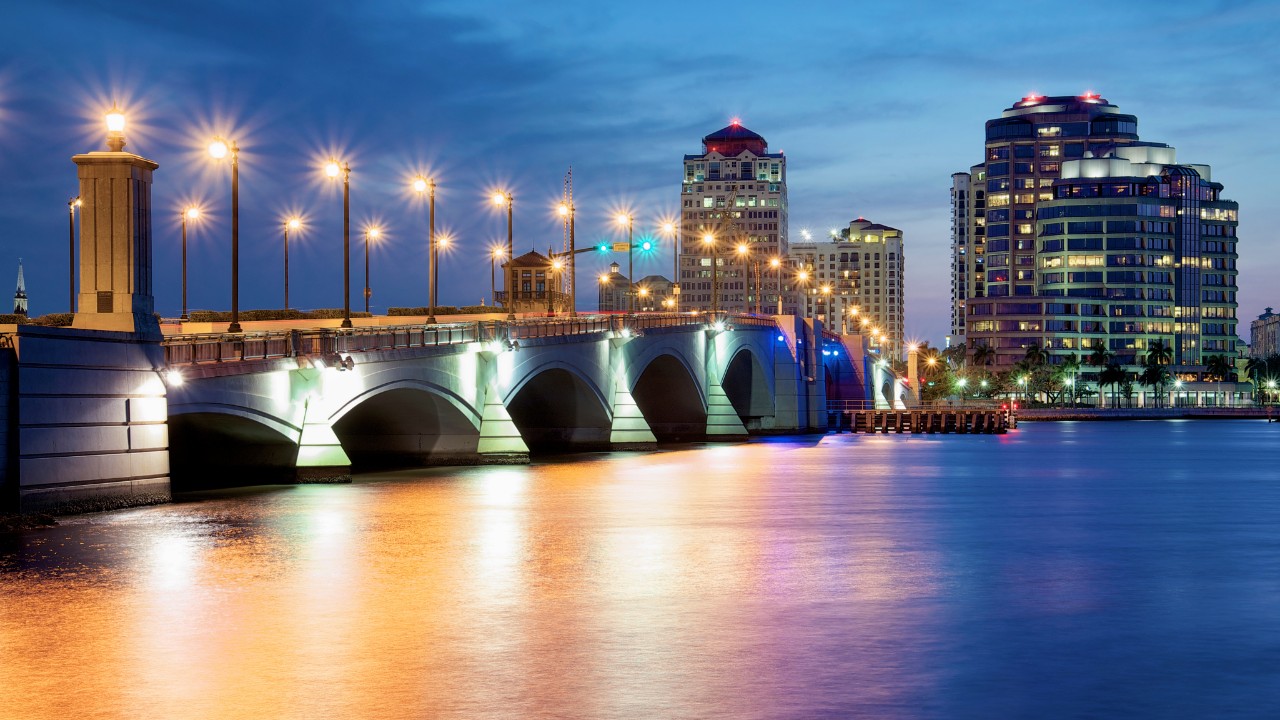 West Palm Beach

Neighborhoods